The West Perth Youth Centre and programs strives to make youth proud to call West Perth home, as well as encourage and foster their voices in our thriving community.
Youth Centre
The West Perth Youth Centre is Open from 3pm - 5pm most days for drop-in or scheduled programs. Please check the calendar below for the planned months activities and programs. Also, check our social media accounts @westperthrecreation to see all upcoming and past programs available, for free, to our West Perth Youth.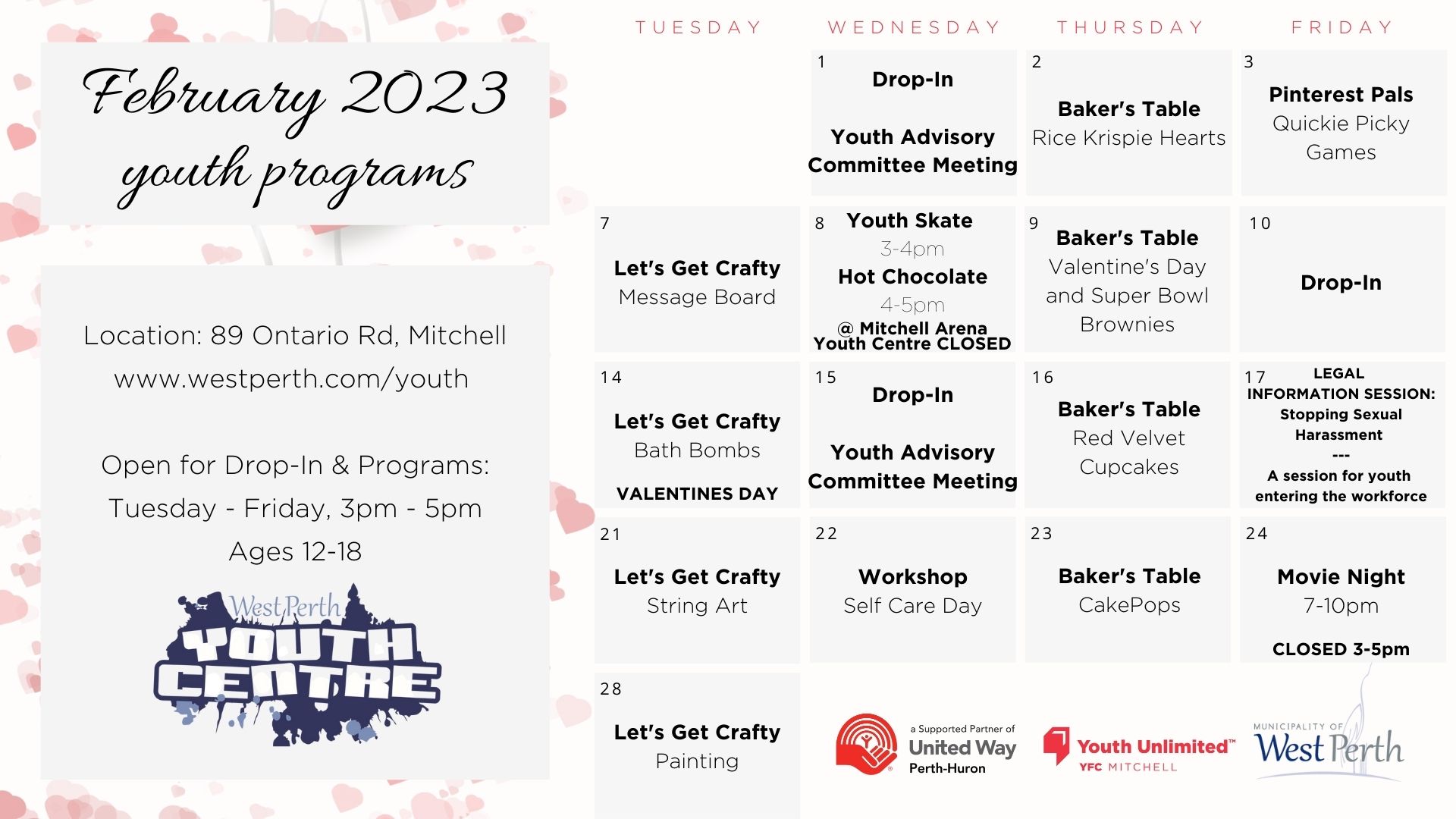 Please use the link below to sign-up for our registered programs & events.
Do you have an idea for a program you'd like to see offered at the West Perth Youth Centre? Share it with our Child and Youth Centre Program Lead, Caitlyn Bergsma! (519) 348-9311 or cbergsma@westperth.com.
Programming at the West Perth Youth Centre would not be possible without the support from United Way Perth Huron. Thank you!
Youth Week 2023
National Youth Week occurs from May 1 – 7 2023.
National Youth Week is a week dedicated to the celebration of youth and their active participation in their community. National Youth Week is not a program, but rather a movement. It is driven by what happens in local communities across Canada.
Are you interested in volunteering or participating in youth week? Let us know using the contact information!
Postponed: Support West Perth's recognition as a Youth Friendly Community
Unfortunately, due to the COVID-19 pandemic and the impact it has had on recreation opportunities, Play Works put a hold on all Youth Friendly Community applications until 2022.
We want to thank everyone who has helped us with this application so far and assure you that any information we have collected will still be eligible when we apply next year. For those still interested in helping, we will update you as soon as applications open for 2023.
Thanks again for your commitment to this community!
Questions?
Contact our Child and Youth Centre Program Lead:
Caitlyn Bergsma
(519) 348-9311
Youth Advisory Committee (West Perth Youth)
The West Perth Youth Advisory Committee members have the important duty of advising the Municipal Staff and Council as to the concerns and interests of the youth and teens in our community. YAC members will also help plan special events, field trips, dances, enrichment programs and classes for teens. The West Perth YAC is a great opportunity to make a difference in our community while completing your Community Service Hours requirement.
Requirements:
Attend YAC board meetings twice/month
Must be a West Perth resident between the ages of 14-19
Fill out the Membership Application to join YAC for 2022-2023!
Share your ideas!
Do you have an idea for a youth event in West Perth? Share it with the West Perth Youth Advisory Committee by contacting our Recreation Coordinator at 519-348-9311 or cbergsma@westperth.com.
YAC is a recipient of the Stratford Perth Community Foundation - West Perth Smart & Caring Community Grant
211 Ontario and Connect Youth Perth Huron
211 Ontario is a helpline and online database of Ontario's community and social services. 211 is answered and updated by highly-trained specialists.
Visit 211 Ontario to learn the services available for youth, including shelters for youth, young parent resources, and youth/summer employment.
ConnectYouth Perth Huron is an online local resource for youth in Perth and Huron Counties to help them make educated decisions about their lives.
2022 Youth Programming Spectrum
Our West Perth Youth 2022 Programming Spectrum is the municipality's commitment to growing social and economic opportunities for youth in West Perth in 2022 and beyond.