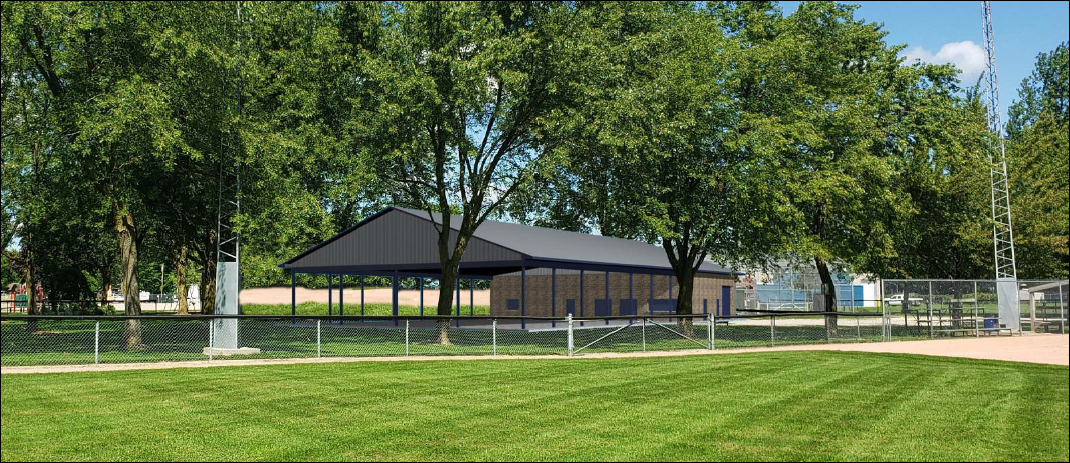 The Keterson Park and Pavilion is an investment the Municipality of West Perth is making in the longevity of high-quality recreation in our community. The cost of this project is $1.8 million, with $812,500 awarded from the Investing in Canada Infrastructure Program Grant (Government of Canada). The Municipality is investing funds in the project, with the remaining $400,000 hoping to be raised by donations, sponsorships, and naming rights.

Donations and Sponsorship Opportunities
The Keterson Park and Pavilion Sponsorship Package
To read the sponsorship package, click the photo below, or the blue title above.
Accessible document can be requested by emailing hcann@westperth.com
Sponsoring this project has many benefits, including high-visibility recognition for your person or company, increasing your company morale while benefiting our community, and supporting local teams and those visiting by providing world-class infrastructure to use and enjoy.
Interested in donating, sponsoring, or naming?
Conceptual Drawings and Map
Conceptual Rendering of the new Keterson Park Pavilion.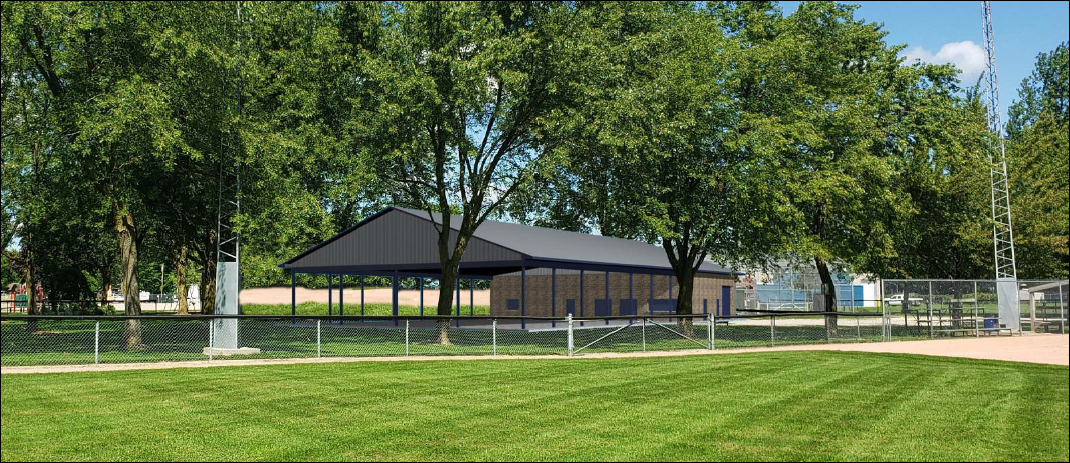 Background
The Municipality of West Perth has been approved for a grant from Investing in Canada Infrastructure Program (ICIP) to support improvements to Keterson Park in Mitchell. The Municipality was made aware of the approval for the grant from ICIP on July 7, 2021. View the full media release on the grant approval here.
View the Government of Ontario's News Release here.
The project involves the construction of a new multi-use pavilion and an accessible path for Keterson Park in Mitchell. These improvements were identified through the Keterson Park Master Plan which was prepared with input from user groups and adopted by West Perth Council in June of 2019. The full Keterson Park Master Plan can be accessed here.
Multi-Use Pavilion
A new multi-use pavilion will replace the existing pavilion and barns. The design is a 130ft by 66ft pavilion with a covered viewing area and sight lines to the playground as well as all four existing ball diamonds. The proposed pavilion will include a kitchen and bar area, washroom facilities, basketball nets, and storage space, removable walls and a wash pad and drainage capabilities for use during the annual fall fair and other events. The new pavilion will be used for a variety of drop-in recreational activities, tournaments and miscellaneous special events.
Accessible Pathway
A new multi-use accessible stone dust path will be constructed around the ball diamonds and out to the parking lot.
Next Steps
The project will go back to tender and be approved by Council before breaking ground.