The Municipality of West Perth along with local community groups offer many different programs within our community for all ages! View what programs West Perth offers below.
Day Camps
P.A. Day Camps, Winter Camps, and March Break Camps are offered at the West Perth Community Centre all year long! Open to ages 4 - 12, day camps feature seasonal activities like skating and swimming (when available), games, crafts, and lots of fun in between.
April Break Day Camp
***The April Break Day Camp will be cancelled due to the 4-week emergency brake announced on April 1st by the Provincial Government. If you have already registered for this program, you will be contacted regarding a refund. Thank you in advance for your understanding!***
April 12, 2021- April 16, 2021
Ages 4-12
$32/day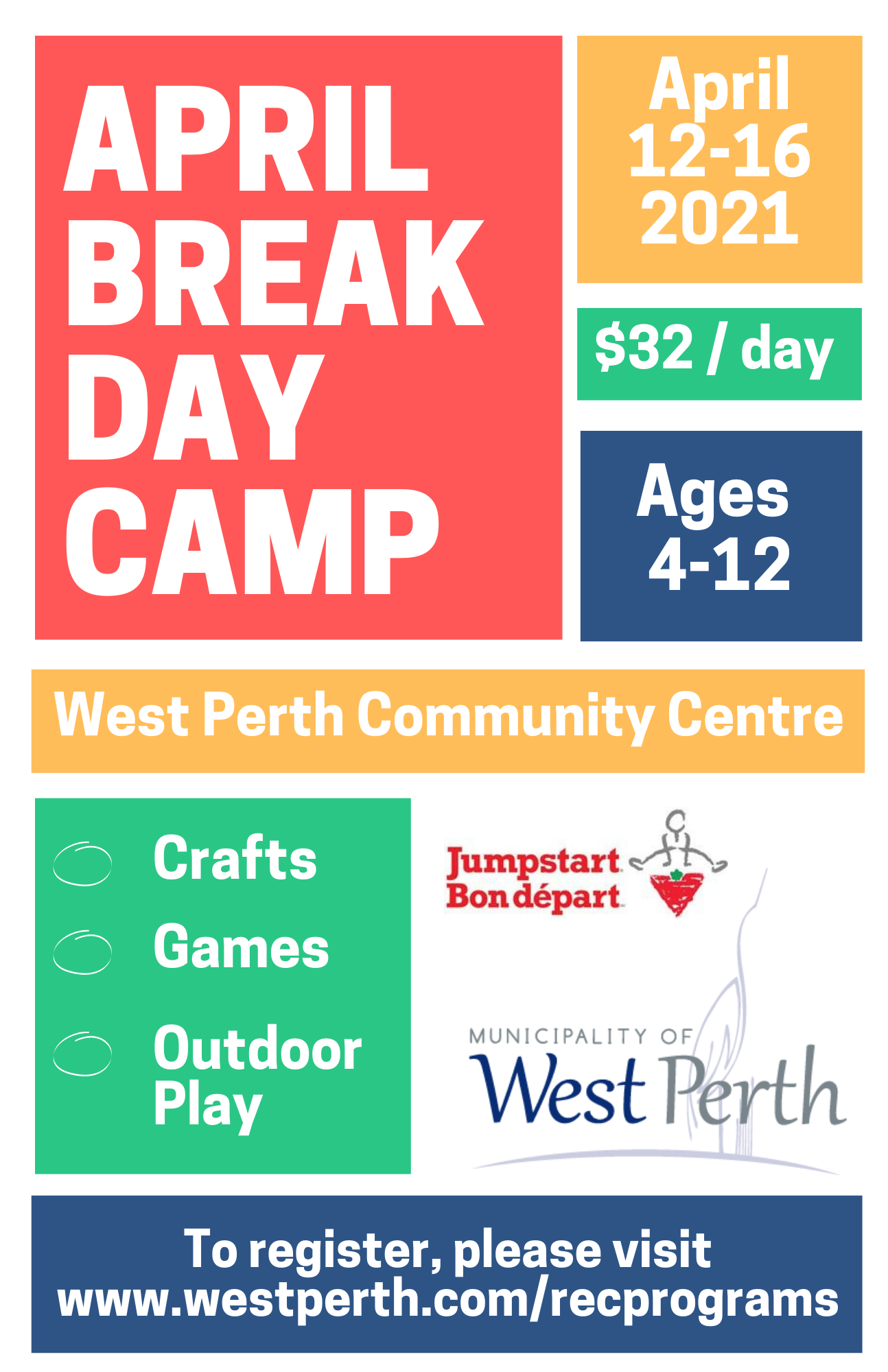 Summer Day Camp
Online Registration Opens Monday, April 19, 2021

Location
Camp will be run out of the West Perth Youth Centre.
Participants will walk to the Lions Park on a daily basis as well as the West Perth Community Centre on occasion.
Participants may walk to other destinations but these will be sent out to parents/guardians ahead of time.
Drop-Off and Pick-Up
Participants can be dropped-off between 8-9am and picked-up between 4:30-5pm.
Early drop-off and/or late pick-up are available for an extra fee.
Core programming will run from 9am – 4:30pm.
Fees
$32.00 / day or $150.00 / week.
What To Bring
Lunch, snacks and reusable water bottle
Hat and sunscreen
Running shoes
Bathing suit and towel
Drop Off and Pick Up
Drop off and pick up of participants will occur outside of program settings and will support physical distancing and cohorts.
Screening
All individuals, including participants, parents / guardians and staff will be screened daily before entrance into the facility. Entry will de denied to any individual who cannot answer yes to the following questions:
I am not experiencing any symptoms of illness such as cough, shortness of breath or difficulty breathing, fever, chills, muscle pain, headache, sore throat, or new loss of taste or smell.
I have not travelled to a highly impacted area in the last 14 days.
I do not believe I have been exposed to someone with a suspected and/or confirmed case of COVID-19.
I have not been diagnosed with COVID-19 and not yet cleared as non-contagious by local public health authorities.
I am following recommended health guidelines as much as possible to limit my exposure to COVID-19.
A daily record of participants and staff will be kept in order to facilitate contract tracing in the event of a confirmed COVID-19 case or outbreak.
Suspected Case of COVID-19
Participants who develop symptoms while in camp will be separated from others and moved to an isolated area until they are picked up.
Environmental sanitization of the space and items used by the participant will be conducted once the participant has been picked up.
Symptomatic camp participants and staff will be referred for testing.
The Municipality will consider a single, symptomatic, laboratory confirmed case of COVID-19 as a confirmed COVID-19 outbreak in consultation with the Huron Perth Health Unit.
Camp participants and staff who have been exposed to a confirmed case of COVID-19 will be excluded from the program setting for 14 days.
Face Coverings
Students in Kindergarten to Grade 3 will be encouraged but not required to wear a face covering in indoor spaces if they are tolerated and able to wear them properly.
Students in Grades 4 and up are required to wear a face mask indoors.
Personal Hygiene
Camp staff will encourage frequent, proper hand hygiene, including incorporating additional hand hygiene opportunities into the daily schedule.
Physical Distancing Guidelines
Program participants will be divided into cohorts of no more than 10 individuals who will remain together for the duration of the program. Camp staff will be assigned to the same cohort each day.
Camp activities will be set-up in a way to encourage physical distancing of at least 2m between camp participants and staff.
Equipment and Materials
All toys and equipment used during camp will be made of materials that can be cleaned and sanitized. Whenever possible, equipment will not be shared between cohorts.
Any shared equipment will be sanitized between uses.
Single-use materials will be allocated on an individual basis and disposed of at the end of each day.
Frequently touched surfaces will be cleaning and sanitized at least twice a day.
___________________________________________________________________________________________
Sponsorship provided by the Jumpstart Sport Relief Fund.
Virtual Babysitter and Youth Safety Courses
West Perth has partnered with SOS 4 Kids to provide virtual programs including the Babysitter's Course and Home Alone Safety for Kids Course. These online courses will be provided via Zoom. Learn more about each program below.

Babysitter's Course

In this course, participants learn how to run a small babysitting business and how to supervise younger siblings or other children in a safe and responsible manner.

Topics include:
How to find clients and make money babysitting
Caring for children of all ages
Creating safe environments and preventing accidents
Fire safety and prevention
What to do in an emergency
Good decision-making and leadership skills
Basic first aid skills
Program Information:
Virtual Course
Ages 11 – 15
April 12, 2021 – April 16, 2021 - Virtual
10:00am – 11:30am


$65.00 + HST
Home Alone Safety for Kids Course
This engaging and fun course helps children prepare for their first steps towards independence and being without adult supervision for short periods of time. Innovative digital and traditional gaming techniques create a positive learning environment for all types of learners and the information is kept relevant and current to today's young learners. Engaged participants learn valuable life skills to help them make safer choices when on their own.
Topics include:
Street smarts and bike safety
People safety and the difference between safe and unsafe strangers
Online and internet safety
Snacking and kitchen safety
Home fire safety
Sibling rivalry
Preventing accidents
How to handle emergencies and other situations
Basic first aid skills
Program Information:
Virtual Course
Ages 9 – 12
April 12, 2021 - April 16, 2021
5:00 p.m. – 6:00 p.m.
$60.00 + HST
Home Alone Online Course
Help your child prepare for independence with SOS 4 Kids' Home Alone course. The tutorial is designed to help youth make safe decisions while on their own at home or in the community. There are 7 learning modules covering street smarts, people safety, at-home safety, online safety, fire safety, first aid and injury prevention.
Work through this online course in your own time over a 14 day period.
Program Information:
Ages 9 – 12
$37.00 + HST
Swimming Lesson Registration
Check back in the spring for 2021 programming information.
Skating
Check out our Ice Rentals and Skating page for more information on Parent & Tot Skating, Public Skating, Adult Skating and private ice rentals.
Sports Registration
Many sports organizations offer their own registration dates and forms. Find all information for baseball, fastball, golf, gymnastics, soccer, etc. on our Sports Organizations page.
Pickleball
Check back in the spring for 2021 programming information.
Drop-in Swimming
Check back in the spring for 2021 programming information.
https://municipalityofwestperth.perfectmind.com/24546/Clients/BookMe4?widgetId=9621ffca-6b60-4f60-adc2-d33db576aab8