West Perth is a host to many outdoor areas including trails that are ideal for walking, hiking, jogging or biking. West Perth has many beautiful areas to spend time with family and friends. Whether you are looking for a place to take the kids for an afternoon of play or hosting a family event, we have a park, playground or sports field to suit your needs. Many of our facilities are in convenient locations across the Municipality.
Parks
West Perth has a wide variety of parks to visit, depending on your favourite ways to enjoy nature!
Dog Park
As a pet owner in West Perth you can enjoy our off-leash dog park which is directly beside the wetlands and walking trails for convenience to exercise and socialize your dog.
Location
The park is located in Mitchell on Frank street just off of Wellington Street. It is a safe haven from traffic and other hazards so our best friends can frolic and socialize safely. There is 60,000 sq ft. featuring open green space, controlled gate access, and is close to washrooms. The park is open from April to November from dawn until dusk.
Park Rules
Our community is pet friendly and values responsible pet ownership.
Up to date rabies and licence tags are required to enter
Leash your dog while entering and exiting
Keep your dog within sight and under verbal control
Clean up after your dog
Do not allow your dog to chase wildlife
No puppies under 4 months, female dogs in heat, sick dogs, aggressive dogs, or dogs required to be muzzled
No glass containers, food or toys
Children must be supervised by an adult
Off-leash area users are subject to the Dog Owner's Liability Act and Keeping of Dogs and Licencing of Kennels By-law 17-2017
Brodhagen Park
Location:
6708 Line 44, Brodhagen, ON N0K 1N0
Features:
Horsehoe Pavilion
Cromarty Park
Location:
6984 Line 21, West Perth, N0K 1Y0 (or if using Google Maps - 6984 21 Line, Staffa, ON N0K 1Y0)
Features:
Pavilion
Playground
Washrooms
Baseball diamond
Dublin Lions Park
Location:
7015 Helen Street, Dublin
Features:
Pavilion
Playground
Washrooms (under renovations)
Baseball diamond
Memorial Forest
The West Perth Memorial Forest provides an elegant and lasting way for you to recognize and honour loved ones through a meaningful tribute. This living memorial may provide a source of comfort to those who have suffered a loss. Visit the West Perth Memorial Forest page to learn more.
Location:
Corner of Eleanor Street and Napier Street, Mitchell
Features:
Benches
Mitchell Lions Park
Location:
Corner of Blenheim and Blanshard Street, Mitchell
Features:
Washrooms (open May-October)
Playgrounds (2)
Accessible Inclusive Playground
Pavilions (2)
Animal Zoo
Splashpad & pool adjacent
Photo Gallery: Lions Park will appear here on the public site.
Animal Park
The West Perth animal park is located in the Mitchell Lions Park on the corner of Blenheim and Blanshard streets. It is centrally located near a playground, covered pavilions, picnic areas, the pool and splashpad.
You can see lots of different animals such as fallow deer, a llama, donkeys, goats and a variety of birds such as ducks, geese, peacocks, pheasants, chickens and turkeys.
It is open year-round as some of the animals love being outside in the winter. Hundreds of tourists visit the animals every year and bring them treats such as corn and carrots.
Important note: Please do not feed the animals anything other than corn, carrots and similar items. They do not like to eat house plants or other human food.
The animal park is overseen by the West Perth Lions Club so please direct all inquiries to President Ray McNaught at mrmcnaught@bell.net.
Photo Gallery: Lions Park - Animal Park will appear here on the public site.
Accessible Playground
The Mitchell Optimist Accessible Playground, sponsored and created through the hard work of the Mitchell Optimist Club, features 6 structures to cater to people young, and young at heart.
The Mitchell Optimist Accessible Playground is located in Lions Park, on Blanchard Street in Mitchell Ontario.
Photo Gallery: Accessible Playground will appear here on the public site.
Fullarton Centennial Park
Location:
2999 Rd 163, Fullarton, ON N0K 1H0
Features:
Baseball diamond (2)
Washrooms
Playground
Pavilion
Keterson Park
Location:
185 Wellington Street, Mitchell, ON N0K 1N0
Features:
Washrooms
Food booth / Bar
Playground
All Wheels Skate Park
Ball Diamonds (4)
Pavilion
Accessible Trail (under Construction)
Rotary Park
Location:
72 Andrew Street, Mitchell ON, N0K 1N0
Features:
Playground
Neighbourwoods Demonstration Forest
Located in Mitchell off Ontario Road, this young forest backs onto Whirl Creek and has an excellent abundance of species to view.
Features
Formerly known as the Whirl Creek River Flats
Over 150 different native trees and shrubs
26 species identified with fact signs
A habitat to enjoy the natural bio-diversity of West Perth
Trails
The trails in West Perth wind through our Wetlands and follow along the Thames River where you can experience scenic landscapes, lush green space and natural animal habitats. West Perth is ideal for all outdoor enthusiasts as it provides a playground to completely experience nature while still being close to all amenities.
Check out local trails on the Perth County Digital Trail Map.
West Perth Thames Nature Trail
Located in the heart of Mitchell following the Thames River valley.
Features
Over 10kms of varied levels of difficulty
Wheelchair, baby stroller and motorized scooter accessible in the North and middle sections
Rugged and scenic in the South section
Passes through the Wetlands, Centennial and Kinsmen Parks
Great for photographers as there are many different bird species
Visit the Ontario Trails website for more information.
Lions Loop Trail
Located in Lions Park in Mitchell, This trail follows the Thames River, linking up to the Nature Trail. Perfect for a lesurely walk with your family or fur baby.
Features
1km in length
Trailhead located at Centennial Park
Connects with the West Perth Thames Nature Trail
Fully accessible for wheelchairs, baby strollers and motorized scooters
Access to picnic areas and the animal park
Visit the Ontario Trails website for more information
Sawyer Preservation Woodlot
The Sawyer Preservation Woodlot Association has done a remarkable job maintaining a beautiful trail network in this mature forest in West Perth. Explore their website for more!
6100 Line 12, West Perth, ON N0K 1K0
Features:
One main trail that offers a light 2.4km walking loop
34 species of trees are present
Visitors are welcome during daylight hours
Picnic tables and an outdoor woodstove are available to use located near the main area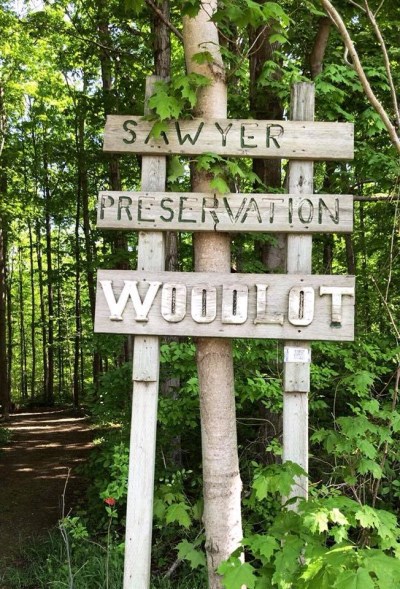 Fullarton Conservation Trail
Located at the Fullarton Conservation Area, this short trail network is ideal for those amature botanists, biologists, and nature lovers alike!
Features:
Two main trails that offer 1.5 km of light hiking, dog walking and birding
230 animal species including birds, fish, reptiles, mammals and butterflies
Many different kinds of vegetation to support a natural habitat
Close to the Fullarton baseball diamonds for easy access to visitors
Sports Fields
Soccer
Kinsmen Park

5949 Frank St, Mitchell

1 full size, 2 intermediate

Upper Thames Elementary School

165 Frances St East, Mitchell

2 full size, 2 intermediate, 6 minis

Mitchell District Highschool

95 Frances St, Mitchell

1 full size
Baseball
Online Diamond Schedule
| | |
| --- | --- |
| Brodhagen Park | 1 lit diamond |
| Cromarty Park | 1 lit diamond |
| Dublin Lions Park | 1 lit diamond |
| Fullarton Centennial Park | 1 lit diamond, 1 unlit diamond |
| Keterson Park | 3 lit diamonds, 1 unlit diamond |
| Kinsmen Park | 1 lit diamond |
Skate Park
| | |
| --- | --- |
| Keterson Park | Several moveable components (removed during the Fall Fair) |
Campgrounds
Conservation Areas
Fullarton Conservation Area
The Fullarton Conservation Area is a lovely day-use area on the North Thames River a few kilometres south (downstream) from Mitchell. The main features of the CA are a small dam and pond and foot trails through reforested areas as well as a picnic pavilion. The dam is a small earthen berm with a drop inlet structure that releases water downstream. 87 acres of nature for you to explore!

For more information on this Conservation Area, please visit the Upper Thames River Conservation Authority's website.